Here are some commonly asked questions about African Ancestry's Reveal Day: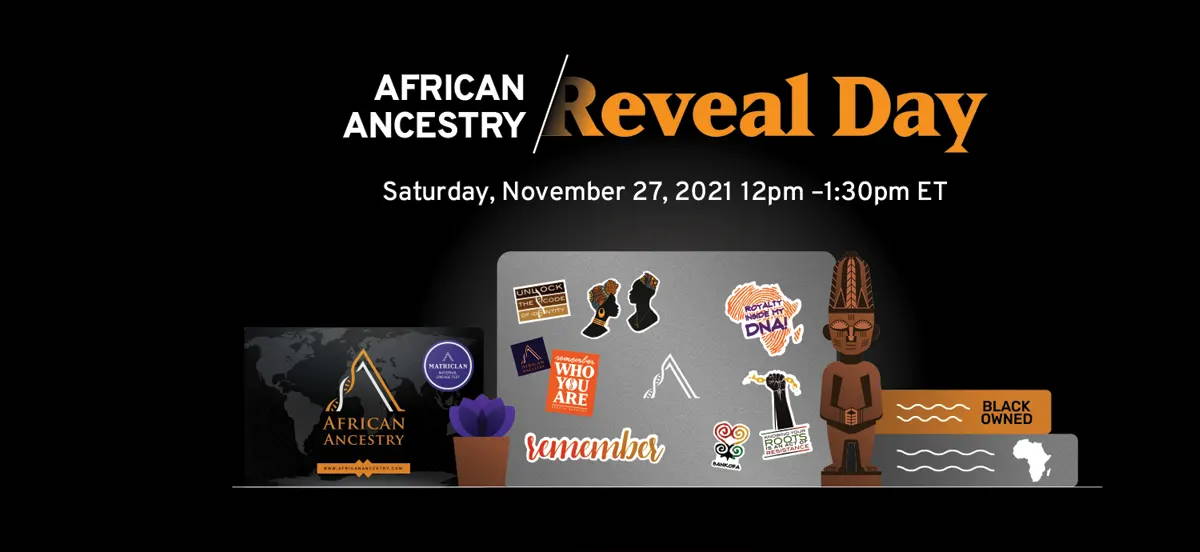 Questions? We have answers.
1. What is Reveal Day? Can I be a part of it? 
Reveal Day is a live-stream event created to celebrate people who have decided to proactively find their African roots. However, people who are still deciding whether this journey is right for them are welcomed to join too. If you're seeing this page, you've been selected to participate in this African Ancestry Reveal event and you can request additional seats once you confirm your participation.
2. What's the cost to attend? 
Reveal Day is absolutely FREE for everyone.  
3. If I can't make it, will a recording be available? 
Excerpts will be available on the African Ancestry Online Community.
4. I purchased a test kit, will my results be ready by Reveal Day? 
If you've submitted your DNA sample before Sept 29, 2021, you can send a request to be included revealday@africanancestry.com. Note, we're unable to guarantee everyone's participation in Reveal Day.
5. I was not selected to participate in Reveal Day. Can I request to be included? 
Note, several factors went in our selection process. Still. you can send a direct request to be included to revealday@africanancestry.com. We're unable to guarantee everyone's participation in Reveal Day.
6. If I choose to not participate, when will I get my results? 
Participating in Reveal Day is an optional benefit. If you decide not to participate, we will honor the estimated due dates you were provided and deliver your results via the Status App within that time frame. If you need a reminder as to when that is, please visit your dashboard on status.africanancestry.com
7. What if I change my mind?
Reveal Day is going to be a once in a lifetime experience. If you change your mind about participating, email revealday@africanancestry.com so that we can offer your seat to someone else. Note, we can't guarantee that your results will be delivered before the event. If you opt out of Reveal Day, your results will be published within the original due date range on your dashboard.
8. Can my family/colleagues join the reveal? 
YES! Every rite of passage involves a community.  
Family, friends, and colleagues are welcomed to join this celebration.  
They can RSVP here: https://africanancestry.com/revealday
9. Am I limited to one test result being revealed?
NO you are not limited to one test. If you've submitted multiple DNA samples before Sept 29, 2021, and have been selected to participate, you will be able to get both results during the event.
10. What do I need to do to have a successful Reveal? 
The first step is registering.  
Everything else needed to succeed will be revealed to you over the next few weeks.  
11. Will there be another if I don't participate? 
Possibly, but there's no guarantee. We encourage you to take full advantage of this opportunity now.
12. When is the next Reveal Day?
13. I am a woman; if a male in my family took the test, can I participate in Reveal Day? 
YES. Note, all results are revealed via the Status App.  Test takers are the only ones who can grant access to Status App by sharing their login credentials. You can coordinate with your family member to share their access to the Status App.  We recommend you work with your family member to create a plan for reveal day.
14. I am a woman; can I purchase a separate Personalized Certificate based on my male family members results? 
YES. Though women cannot take the PatriClan Test Kit due to not having a Y Chromosome in their DNA, the results of the PatriClan Test Kit still apply to women on the same paternal line of the family. You can order your personalized certificate here. https://africanancestry.com/certificates
15. Will customers get a discount (or other things) for participating or viewing? 
Reveal Day is an entire experience and worth so much more than a discount or gift. However, yes, discounts and other things will be shared with those who participate.
16. What if my question wasn't answered here? 
All questions about the day can be directed to our team at revealday@africanancestry.com!